Hello Engineers, A non-stop internet connection is a necessity for all. Although in developed cities, a power cut is very uncommon. But still, it takes place and if your wifi and landline connection isn't connected to the inverter, then your internet connection and landline may not get power and it is interrupted and all the work related to broadband connections can be disrupted. For an alternative, portable and reliable solution, Today I am going to discuss a UPS/backup power grid for wifi and broadband that works as a UPS for your broadband wifi router. So let's start understanding in detail about this UPS power grid for wifi and landlines.
It is just like a UPS for wifi router and other 12v devices as it's the UPS to power the device during the presence as well as in the absence of the electricity supply just like a computer UPS does. So let's get started with the materials required and the circuit, followed by explanation and circuit working under different circumstances.
Materials
12v 1.6 – 4.5Ah SLA battery.
LM7809-1Pcs
LM7812-1Pcs
RL1(RELAY) 9V-1Pcs
C2&C5 0.1uf-2Pcs
C3&C4 0.01uf-2Pcs
C6&C7 100uf-2Pcs
C1 2200uf
D1 1N5400
D2 1N5349- 1Pcs
15v 1A dc adapter (buy from amazon) or 15v bridge rectifier, But it would be perfect if you use a 15v dc adapter
PCB
DC Female connector -1Pcs to get 15 v adapter input
DC male connector-1Pcs to connect to the wifi power input.
The Circuit Diagram
The circuit is shown above is perfect and is capable of serving its purpose of providing Uninterruptible Power Supply. The circuit's work is just as similar to that of computer UPS. During the mains supply, the 15v DC adapter is powering the circuit as well as charging the 12v battery, during the cutoff the relay goes back to the NC where the battery provides output. There is Zener diode D2 at the output stage to regulate and cut the extra voltage as the fully charged lead-acid will be giving a bit more i.e 13-14v but D2 again cuts it to 12v DC.
Here SW1 switch is used because I wanted to demonstrate the power mains cut off and on. But in the practical circuit, you have to directly 15v Adapter input via the DC female connector to input the circuit.
Working
1st condition: When mains are ON then 15v entering the circuit is regulated LM7809 to turn the relay on and COM is connected to NO pin and 15v converted to 12V DC by LM7812 is fed to the output stage to power the router or load and on the other hand 15V input also charges the 12v lead-acid battery.
below is the image simulating as mains ON and the adapter is now using by closing switch

2nd Condition: When mains are cutoff or we can say in the absence of domestic supply, the 15 v adapter is not giving supply and relay is also of the state by shifting back COM pin to NC pin which is connected to the battery and now, the battery starts supplying the wifi router or your broadband connection.Since the charged battery is approximately 13-14v dc so Zener D2 regulates that voltage to 12.1-12.5 v dc which is absolutely safe for these devices
.Below is the image simulating the mains domestic supply cutoff by making the input switch Open.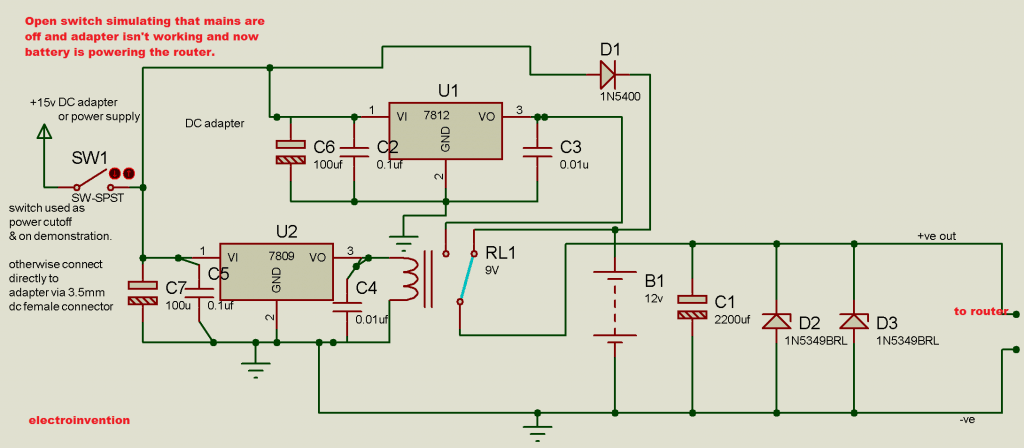 I hope you guys liked this project and if you feel the need to ask anything you can comment below. And if you liked it then please let me know in comments .also for circuit requests you can comment below.
Note: Only follow the first circuit as it's updated. Rest below are for demonstration.