Hello everyone, our project in this tutorial is a solar rechargeable LED lamp with an inbuilt power bank for phone charging. It is a multipurpose homemade camping device. As the project's name shows its a very useful emergency purpose or camping device as it can provide you full bright light at night time whenever you are off-grid as well as can charge your smartphone's battery also. (solar rechargeable LED lamp, with an inbuilt smartphone power bank ." Solar multipurpose camping device ".This is a free energy device as it can be charged through solar, and provide you free energy and charges your phone for free. Solar Multipurpose camping device /Multipurpose solar rechargeable lamp+powerbank.
This device can also be charged through any 12v dc adapter in the absence of sunlight. I have made this by recycling a plastic CAN container.
Step 1: INFRASTRUCTURE(OUTER AND INNER fittings) For this solar multipurpose camping device
Here are some images that show the fittings and orientation of various components like battery, led panel, USB port, solar panels, etc. For cutting the plastic can we can use a cutter or a knife. There are two switches on the surface, one is for led panel and the other one is for power bank module.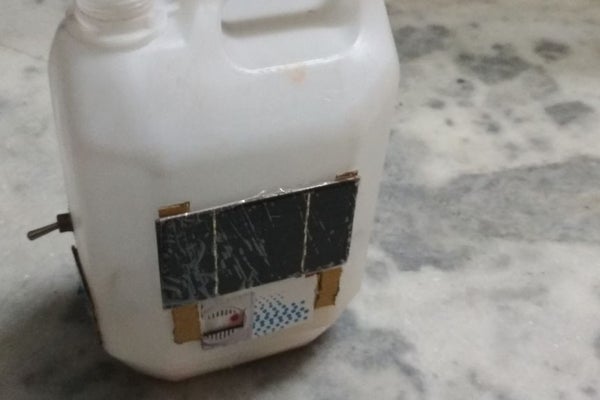 Materials:
1. 1 watt LEDs -20 pcs
2. LM7805 – 2PCS
3.dc-dc 5v buy from amazon site -1pc
4. 6v 7.5ah sealed lead-acid battery
6v battery Buy from amazon
6. Red color led to a charging indicator.
7. Switches -2pcs normal types
8. PCB – 2pcs
9. 0.33uf 1pcs
10. 100uf -1pcs
11. dc 3.5mm female jack(for adapter input for charging)
misc – wires, tape, old waste cans,thermacol, fast adhesive gum, etc
Step 3: Connections and the Circuit Diagram
Here is a circuit diagram of the led driver circuit and block diagram of the full device and shows how all functional units are interfaced together to make a multi-purpose device. The self-made LED DRIVER circuit and the ready-made 6v to 5v 3A USB buck module are also shown above in the pictures.
Step 4: TESTING
The images above show the project perfectly working and also show different modes in which it can be operated. Through solar panel (6v and 3w)it can be charged in 8 hours full. (but not needed to charge 8hour practically as it will not be discharged that much) and via 12v 1A dc adapter, it can be charged in just 2 hours. Also, it can charge your smartphone or give you brightness during the power cutoff or the absence of electricity.
I hope you guys liked this utility project .if you liked it please let me know in comments and for any help, you can comment below. I have also added a video demonstrating how this project actually works.
It's a kind of free energy product.
The video