Introduction to variable voltage regulator :–
A variable power supply unit is a very useful tool that provides the constant derived voltage output with constant current rated by the unit. A variable power output tool is a necessity for electrical and electronics hobbyists and professional work.These are circuits built using active and passive components(diodes,transistor,capacitors,resistors,ICs,etc.

HOW TO USE LM317 the variable voltage regulator 
Here I will tell you how to make a simple variable power supply using an LM317 variable voltage regulator. This is a variable voltage regulator with TO-220 PCB packaging.
It has 3 pin terminals:- ADJ, Vout, Vin.

Materials
Transformer 12v-15v 1Amp to 2Amp
LM317K-1Pcs
(D1,D2,D3,D4) 1N4007 – 4 Pcs
C1 3300uf-1pcs
C2 330nf – pcs
C3 100uf – 1pcs
R1 10K – 1pcs
RV1 2K – 1pcs
D5 1N5400 – 1pcs
Circuitry for LM317 Variable Power supply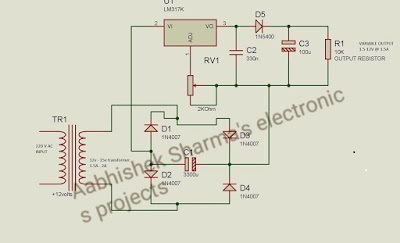 Guys if you like it, then please comment it below and for any doubts or suggestions, you people can comment below.
I have added this video below please watch it for more ing=fo and reffre=nce to make and check the working.
VIDEO