Tesla coil is a radio frequency oscillator that drives an air-core double-tuned resonant transformer to produce high voltages at low currents. so let's get started with our mini tesla coil.
Materials
1. 8 CM PVC PIPE
2. 15-20 Metres of COPPER Insulated Wire[motor winding wire], thickness around 0.2 mm
3. 15cm copper insulated wire which is a little thick from above.
4. one 9v battery.
5. 2N2222A transistor.1 Pcs
6. 22k resistor.
7. Small switch to switch the circuit on and off.
NOTE:-U CAN USE THE THICKNESS OF WIRES ACCORDING TO UR USE. IT'S NOT A COMPULSION TO USE THE WIRE OF EXACTLY SAME THICKNESS THAT I HAVE SPECIFIED. It's SIMPLE THAT THE WIRE OF PRIMARY COIL MUST BE ALITTLE THICKER THAN WIRE OF LARGER COIL. SEE REFERENCE PHOTOS.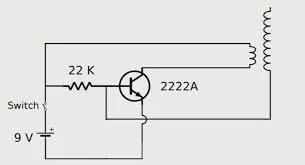 The circuit diagram
CONNECT ALL THE COMPONENTS ACCORDING TO THE diagram and pictures it's CLEARLY SHOWN.
Guys if you like this post, then comment it below and tell me how did you felt like.
NIKOLA TESLA WAS GREAT, IS GREAT, AND WILL ALWAYS BE.
I have also added a video of the working of this tesla coil that I have made, below. Please watch it. If you have any doubts or suggestions please comment them below.

VIDEO