Hello Engineers. Here is another automation and home utility-related project " Automatic smart washbasin tap controller". An untouched and automatic water tap is a necessity to prevent virus contamination even after washing hands. Also, in the current coronavirus threat, we need to make sure of our hygiene and immunity. Although, we have a lot of handsfree automatic water tap controller circuits available on the internet with different ideas. Today, I am going to introduce a better and easier circuit which is much simpler and without any microcontrollers. So, let's start with our topic automatic smart washbasin handwash water tap controller / Smart washbasin tap controller / automatic handwash water tap system / smart washbasin tap controller circuit.
Circuit Diagram for smart washbasin tap controller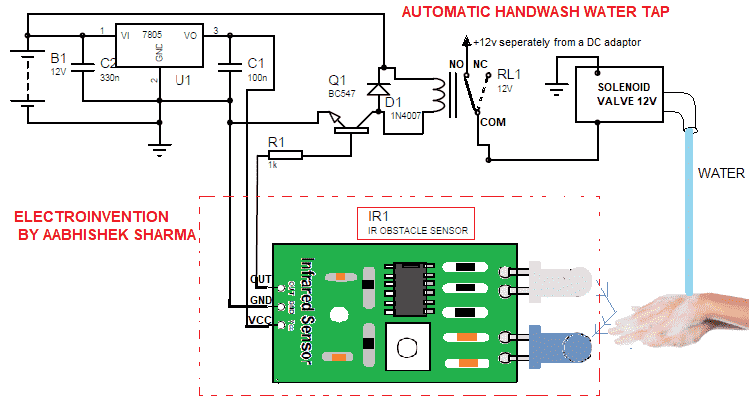 Below will be the materials and working explanations.
Materials
Working
The schematic above is employing an IR Obstacle sensor as a detector and the solenoid valve to control the water flow. The circuit is being powered by a 12v battery as a power source, but you can use any 12v dc adapter.
There is a solenoid valve connected to the relay COM pin. As soon as the hand comes in front of the sensor, the IR sensor detects them.
It does detection work by the principle depending upon the working of the IR encoder and receiver. Once, the hand comes in the range with the sensor the IR light emitted by the emitter falls and strikes back from the hands. This reflected IR radiation is sensed by the IR receiver LED in the sensor. The IR sensor then gives a TTL Output to the transistor Q1's base to turn it ON.
This makes the relay turn ON. After that, the relay makes the solenoid valve connected to a power source connected to the NO pin that leads to water flow.
If hands are removed, the sensor stops the transistor supply making relay to turn off and the solenoid valve stops getting supply too. The water flow then stops as the relay COM pin gets back to NC. This makes solenoid to turn off and water supply is off.
Use a separate 12V DC power for the solenoid valve. For batteries, you can use anything maybe lithium-ion 11.1v or lead-acid12v (1.2 ah will also be enough) or anything according to your convenience. You have to also add a charging facility according to the battery type. Save water, Prevent germs, Save Health, Save the earth!
I hope you guys liked it. Do mention in the comments. Also, subscribe to our newsletter to get the latest post updates automatically.