Hello engineers, In this article I am going to share an LDR operated laser light security Alarm system. This circuit having LDR as the light-sensing component. This circuit discussed here has a relay that simply changes whenever the laser falling over LDR is interrupted and then Buzzer turns ON.So let's get started with understanding in detail. with our Laser light security alarm circuit or Burglar alarm.
Materials:
Laser Light
RL1-Relay 12V dc
Q1 -Transistor TIP122
R1-470K
LDR1-LDR
BUZ1-BUZZER 12V
PCB
BATTERY /POWER SUPPLY -12V dc
D1-LED
The Circuit for laser light security alarm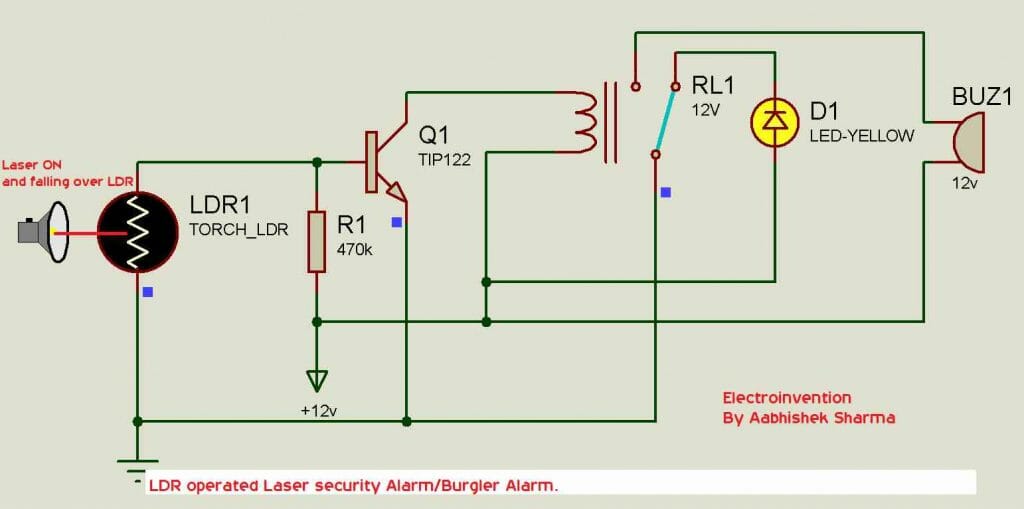 In the circuit above the Laser light is falling over the LDR. An LDR is a photoresistor whose resistance is least when the incident light is at the high intensity and highest when kept in dark. So, when the laser is falling over the LDR, its resistance is least approx.100ohms which makes the transistor base to be shorted by ground and transistor is kept turned off and the relay is also turned off and the buzzer is also not getting supply.
When Laser is interrupted
When Laser is interrupted, Light is not falling over LDR and LDR's resistance is maximum, up to 1M ohm which is higher than R1 which is just 470Kohm and lesser than the LDR's resistance 1Mohm. So, now the transistor's base is connected to +12v via 470k resistor (because current follows the easiest path) to travel through. The active state transistor turns the TIP122 which turns ON the relay and then com is connected to the NO. This condition connects the Buzzer +ve and -ve both terminals.
Applications Of circuit
These kinds of circuits are employed in various security systems,
Theft alarm systems,
Field security
Cattle herd protection system
Burglar alarms,
It can be employed in field boundaries to automatically turn on fence gates at night to protect crops, etc.
I hope you guys liked it. Comment below to share your views.and ideas. Below is a full simulation video check that too.
Watch full simulation video and do subscribe to that channel for getting updated about new circuit diagrams ,simulations and gadgets because there are somethings i only upload there
Check a much More advanced smart automatic Intruder detector Burglar alarm with 400metres loud sound and motion detection feature. Circuit here. Also having additional functionality of auto power on and off during night and day.